Volunteer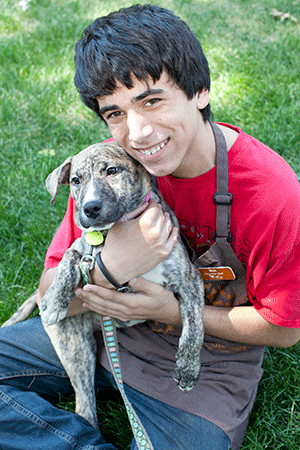 Without our volunteers, we would never be able to achieve what we do year in and year out. Please consider volunteering at this year's Walk for Animals. Read what a few past volunteers said they loved most about the experience:
"Seeing the sheer numbers of participants all out together enjoying the day with their pets was truly enjoyable. Everyone was happy, smiling and having fun."
"The overall atmosphere - it is such an energetic and fun experience."
"I loved seeing all the people and their pets who came to the event. What a terrific way to raise money for a great cause!"
"Between the animals and my interactions with their people my face hurt from smiling all day!"
Benefits:
The deep satisfaction that comes with helping a worthy cause.
Knowing you helped make the nation's largest human and animal pet walk happen.
Seeing the faces of AHS alumni pets and their loving owners.
A great time with thousands of animal lovers just like you!
One free ultra-stylish Walk for Animals t-shirt!
Laughing at dozens of dogs dressed up in adorable costumes.
Age Requirements:
Volunteers for The Walk must be 16 years of age or older.
Sign up to volunteer:
Access our online volunteer registration to get started. If you are unable to register online, you can call 763-432-4834 to register in person with a member of our Volunteer Services team.
We welcome groups to volunteer, and require each group member to register individually and put the name of their fellow group members, group lead or group name in the notes section on the application. Groups must have all members registered by Friday, April 4 in order to guarantee placement in a role as a group.