Bound for Home success stories
Mindy's tale: From 40 days to seven hours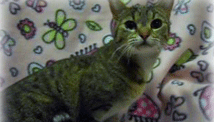 Mindy's owner suffered from allergies and could no longer keep the two-year old cat. He contacted Animal Humane Society, set up an intake appointment to discuss his options and was asked to bring the cat's veterinary records. AHS veterinary staff reviewed Mindy's medical history, scanned her for a microchip, examined her and learned of the tabby's sweet personality.

That was on a Saturday morning. Hours later, Mindy, who had already been spayed, was in our Golden Valley adoption center and adopted later that day. She only spent seven hours at AHS — a far cry from the 40 days that she may have faced less than a year ago.

Mindy is now living quietly with her new family who say she is doing well… watching the pet fish.
A new home for Champ that is nothing to sneeze at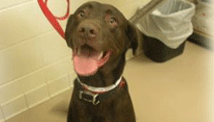 Champ, a chocolate Labrador retriever, was surrendered because his owners were moving and could no longer care for him. During his intake appointment at our Woodbury shelter we learned that he had severe allergies to cats that would make a long stay in the shelter very difficult for him. Fortunately, because we were able to learn a great deal about Champ during the appointment with his owner, we were able to place him in the adoption center right away.
Later that day he was leaving the shelter and heading home with his new family. Chances of a severe allergic reaction to the cats in our care that would have left his eyes and lips incredibly swollen were left behind.
"Champ was adopted just four hours after coming in by a family with three kids ages 10, 12 and 15 years old," says Kristin Livdahl, AHS customer service supervisor. "Their father had a dog at his house and their mother was looking to have a dog for the kids at hers too. They were really excited to adopt him."
Behavior Helpline helps animals stay in their home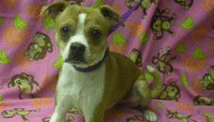 In January 2011, Peggy adopted a 10-month-old Boston terrier/pug named Romeo from AHS in Golden Valley. After about a month, Peggy called our Behavior Helpline asking for advice. Romeo was a wonderful dog but there was one problem – he wouldn't stop barking.
Peggy did not want to return Romeo, but she was growing increasingly frustrated as he would bark at everything and everyone. She spoke with Brandon, an AHS behavior counselor, and explained the problem. Brandon told Peggy how to teach Romeo "quiet" on cue to help solve nuisance barking. He encouraged her to enroll in a training class and continue working consistently with Romeo to stop his incessant barking. Peggy thanked Brandon for his help and for making her feel better.
Shortly after, Romeo began training classes and Peggy started working with him on learning to be quiet. She taught him that when he starts barking, he gets a timeout in a room with no treats or toys. He can only come out of the room when he has calmed and stopped barking.
"Now if he's barking, I say 'do you want a time out?' and he knows what that means and will be quiet," says Peggy. "I'm grateful for the Behavior Helpline. Brandon gave me great advice and helped me understand that it will take time and patience, but we can work through this. Romeo is definitely a keeper!"
To accommodate our new animal admission process, AHS's Behavior Helpline is now available seven days a week to help individuals that are experiencing problems with their pet. Many pet behavior problems are resolvable. By working with our staff, people are often able to keep their pet in their home.