Every week, litter after litter of unwanted kittens arrive at Animal Humane Society in need of time-intensive, hands-on care. This care often includes bottle feeding them every two hours as part of our Bottle Babies program.
Your support is needed right now to help care for these vulnerable animals. And for a limited time, your donation will be matched dollar-for-dollar up to $10,000, thanks to two generous AHS Bottle Babies volunteers. Don't miss this opportunity to double your gift to support animals in need!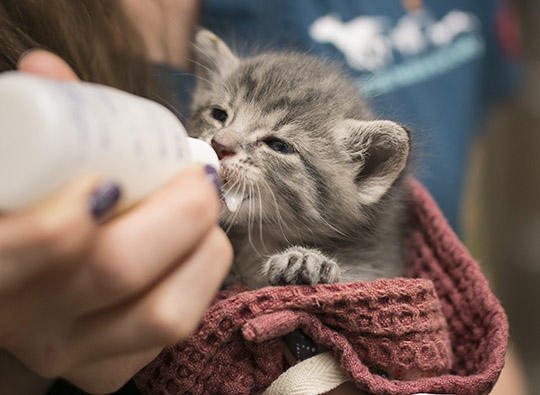 ---
Perhaps no one is more excited about the arrival of warm weather than Max, the paddleboarding cat. Max was adopted from Animal Humane Society six years ago by Craig and Jeanette, who live on Forest Lake. Max's passion for the outdoors began when he spent time outside on a leash near the water. One day, Craig was paddleboarding near the dock and brought Max on the board with him. Max took to it almost immediately and now, when Craig is on the board, Max will come running down the dock and hop on! Max and his cat brother Louie — also a fan of the outdoors — are both looking forward to another adventurous summer.
Does your pet love summer as much as Max? Send us photos or video of your pet(s) enjoying a summer activity, and it might be included in a Top Ten list we'll release on our Facebook page later this month!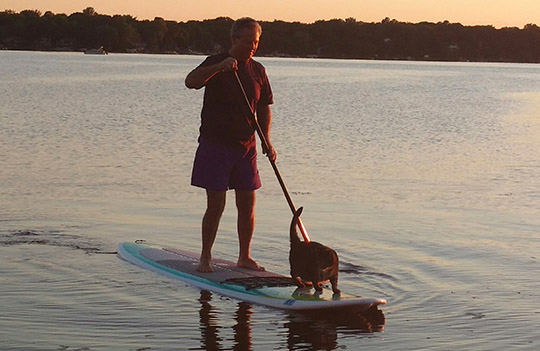 ---
Davos the dog is paying it forward one golf ball at a time! An excellent retriever, he finds unclaimed balls hit into the weeds at his neighborhood golf course and his owner Al sells each for 25 cents. After retrieving 400 golf balls, Davos and Al donated $100 to AHS to help fellow animals in need. Watch KARE 11's news story to see Davos in action.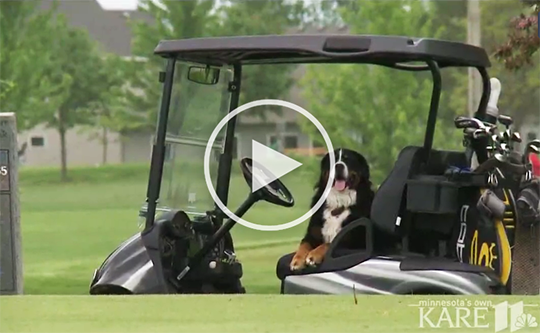 ---
Have you read the latest edition of Animal Tracks? Print copies are available at all five AHS locations, or you can read it online or download a PDF.
The latest issue features an inside look at the AHS Humane Investigations team. From aiding animals in crisis to educating owners on proper care of their pets, learn how our humane agents handle hundreds of calls for assistance each year from all over Minnesota. You'll also read about a pair of Labradors who are being Loved for Life and a new expansion to our hospice adoption program.

---
Nine local Roseville children and their parents recently volunteered their time at AHS's Memorial Pet Cemetery getting the grounds in shape for spring visitors. Jim Westby, the cemetery caretaker, greeted them as they arrived. "They were just there to do something good for their community," said Jim.
Little by little, the families removed traces of winter, collecting sticks and raking old leaves to uncover new green grass below. "I think they did a magnificent job," said Jim. The care and time they took reflects a sentiment that AHS has always known to be true: when a group of passionate people come together, they can make a big difference in the lives of animals and the people who love them.
Thank you so much to the families who participated in the spring clean-up. It means so much to us, and the folks who visit their beloved pets at the Memorial Pet Cemetery.