We can feel the excitement building… the Walk for Animals is just four days away! This Saturday, thousands of animal lovers and their pets will get their wag on at our Golden Valley location to help animals in need right here in our community. If you haven't already registered for the Walk, it's not too late!
We've been working hard to put together the best Walk yet, with plenty of activities, live music, food trucks, vendors, and entertainment for all ages (and species)! Visit walkforanimalsmn.org for the most up-to-date information on everything you need to know about Walk Day.
Not only is the Walk a great time for humans and animals, it's also crucial to providing nurturing care for the more than 23,000 animals that come through our shelters each year. With the help of animal lovers like you, we've already raised more than $470,000, but we still have a ways to go to meet our $1 million goal. Help get us there by making a donation today.
We hope to see you there!


---
We're thrilled to let you in on a little secret — we're bringing the 2017 Walk for Animals to your living room tomorrow!
Animal Humane Society is partnering with WCCO-TV on May 3 to raise funds for animals in need. We'll share extraordinary stories on each WCCO newscast while volunteers take donations by phone all day! Tune in and see how you can make a tremendous impact on animals in our community. Of course, you're welcome to make a donation to the Walk anytime.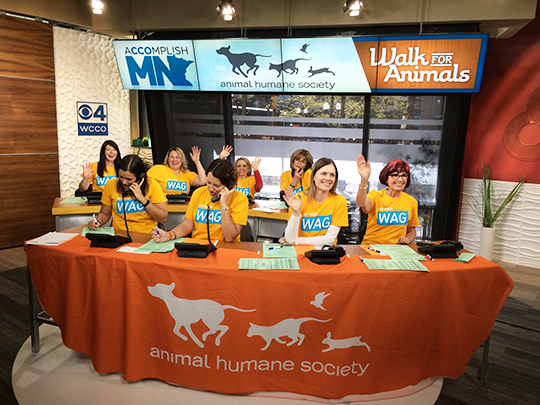 ---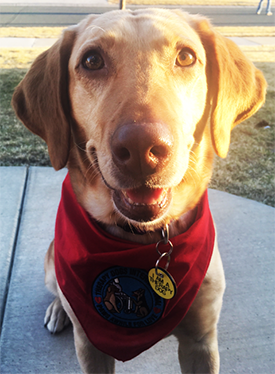 "When something so special comes out of the most unlikely situation, you just have to stop and recognize that goodness wins, even in dark times. This month marks the one year anniversary of the rescue of a group of amazing labs from a deplorable situation at a puppy mill in Wisconsin. I was given the privilege of fostering one of the puppy mill moms, and later adopted another of the moms, Georgia. Given their situation, they should have been bitter, broken, and unfixable. I couldn't have been proven more wrong! After a lot of hard work and trust building, Georgia has proudly become a certified therapy dog, and has earned her Canine Good Citizen certification. She will now help bring a glimmer of hope and light to those who need it, inspiring those around her with her story of healing and perseverance. My heart is full!
Thank you AHS for all you do, and happy one year anniversary of freedom to all the Pierce County puppy mill survivors!"
— Story submitted by Janice
---
Every day we are grateful for the generous support of our volunteers, and during National Volunteer Appreciation Week in April, we took the opportunity to give extra thanks by recognizing and celebrating their amazing contributions to AHS.
National Volunteer Appreciation Week honors the dedicated individuals who provide more than 175,000 hours of service every year!
We couldn't do all that we do for animals without our amazing volunteers. To say thanks, the animals (with a bit of help) created this special video message to express their gratitude.