In December, we told you about an AHS humane investigation that led to the removal of 93 dogs, cats, and guinea pigs from unsanitary and overcrowded conditions in a rural Pine County home. Since then, 50 animals have been adopted into new, loving homes where they are getting the individual care and attention they deserve. So many adopters opened their hearts and homes to give these vulnerable animals a second chance. In one instance, a dog was adopted just as she was being placed in her kennel — scooped up by an adopter who now knows the meaning of love at first sight!
An additional 37 animals were placed with partnering rescue organizations around Minnesota. These foster-based organizations are able to provide a different type of environment than we can facilitate at a busy Animal Humane Society shelter, making them perfect for animals that need a calm place to recuperate before finding new homes of their own.
Animal Humane Society foster volunteers are caring for three female guinea pigs who are being monitored to determine whether or not they are pregnant before being adopted.
Additionally, three animals from this case were humanely euthanized due to severe health or behavior issues that were unable to be treated.
We're so grateful for the incredible outpouring of support from the community that helped us change the lives of nearly 100 animals in need.

---
Animal Humane Society helps tens of thousands of animals in need find new homes every year, but that's not the only way we support animals on their journey home. Each year we reunite around 1,000 lost animals with their loving families who miss them. We feel incredibly fortunate to be a part of these reunions, and want to share a few of the most recent ones with you.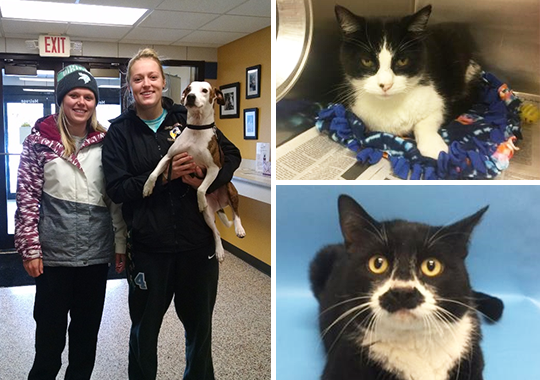 ---
It's hard to believe it's already been one year since the arrival of Sally T — the 1,000th Chihuahua to be transported to Animal Humane Society from our rescue partners in California. We checked in with her new family to see how the last year has gone, and it's clear the cross-country trip has resulted in a very good life for little Sally!

---
Last week we informed AHS Animal Advocates about the U.S. Department of Agriculture's (USDA) abrupt removal from its website of inspection reports and other information about the treatment of animals at dog breeding operations and other facilities regulated under the federal Animal Welfare Act and Horse Protection Act. If you missed that alert, here's your chance to help out.
These records expose abuse and mistreatment — including shocking conditions in many puppy mills — that would otherwise remain hidden. Numerous organizations, agencies, journalists, animal welfare advocates and citizens have accessed this data for years in order to protect animals, report findings, and hold abusers accountable.
Animal Humane Society is joining other animal welfare organizations in urging its supporters to tell the federal government to restore public access to these records on its website as soon as possible. Please take a moment and lend your voice to help animals.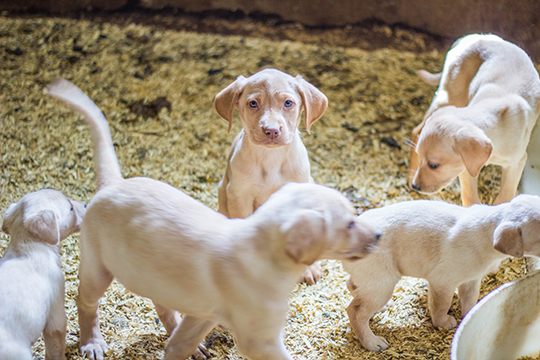 ---
It's hard to believe, but summer vacation will be here before we know it. Keep your animal-loving kids busy this summer with Animal Humane Society's Summer Camp!
Registration is now open for week-long summer camp sessions at our five AHS locations. Campers spend a full week immersed in animal-related educational activities, including games, crafts, guest speakers, animal interactions, and more. Space is limited and many sessions fill up quickly, so make sure to register today!

---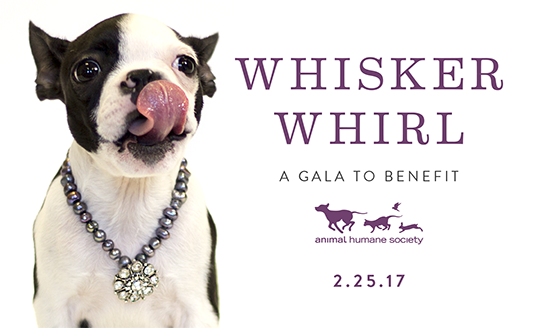 Animal Humane Society's 11th annual Whisker Whirl gala is just around the corner, and only a few tickets remain for this popular night out! This year's event will be held at a swanky new venue — International Market Square in Minneapolis. Your dog is welcome, too!
General tickets are sold out, but you can still get your hands on the last remaining VIP tickets. The exclusive VIP experience includes:
Designated parking just steps away from the entrance
Preferred seating with tableside pet assistance
A private VIP reception with gourmet hors d'oeuvres and three complimentary drinks
First access to all activities and silent auction items
A special, hand-crafted take away
Don't miss this one-of-a-kind event that makes a big impact for animals in need!
A special thanks to our Whisker Whirl sponsors