In late November, Animal Humane Society Senior Humane Agent Wade Hanson worked with a rural Pine County couple to remove 93 animals in need of care from their home. The couple could not provide adequate care for the growing number of animals and agreed to release them to AHS.
The 79 dogs, eight cats, and six guinea pigs were allowed to roam freely within the home, resulting in unsanitary living conditions for both the humans and animals. Many of the animals were unsterilized, leading to an overpopulation problem that the homeowners could not remedy on their own.
Once at AHS, the animals were examined and found to have varying degrees of health and social issues due to a lack of consistent medical care, poor socialization, and uncontrolled breeding.
The animals have been receiving medical and behavior treatments to prepare them for adoption. So far, nearly 30 have found new homes through adoption or rescue partners, and the remaining animals will be made available as they become ready for adoption.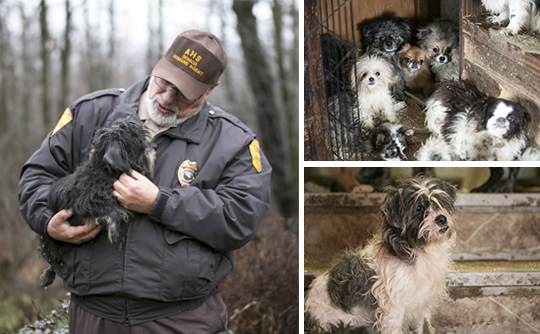 ---
As you're making your list and checking it twice, you can help animals in need! Animal Humane Society's Giving Guide allows you to make a gift in honor of the animal lover in your life, while supporting animals awaiting new homes at AHS. Give the gift of fun, comfort, or healing, and check a few people off your list today! Browse the Giving Guide and select a meaningful gift that makes a true difference for animals in need of extra care and love this holiday season.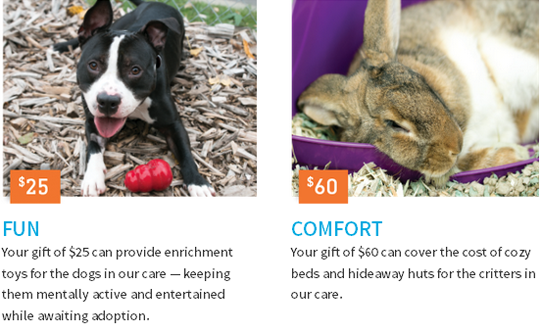 ---
At AHS we believe every animal will find their perfect match. Every day, animals leave our adoption centers headed to new loving homes. However there are some animals who remain in our shelters week after week, waiting longer than the others to be adopted. We call them Forget-Me-Nots, and they'd love nothing more than to go home for the holidays. Meet a few of these special animals below, and visit our website to view all available Forget-Me-Nots.
| | |
| --- | --- |
| | When you visit Tiger, you'll likely find him lounging in his cat bed, cozy and warm. Although he likes his beauty sleep, he'll always venture out for chin scratches and pets. Tiger has a little cold, but AHS is providing him with the best care possible. We bet he would recover even more quickly knowing he was home for the holidays. |
| | When Cerise arrived as a stray, she was covered with scrapes and scratches. Now her beautiful copper coat shines. At first, she may seem more interested in toys than visitors, but who can blame a previously homeless dog for loving her Kong? Spend time with Cerise in a visitation room and you'll find she is an affectionate 45-pound lap dog with so much love to give. |
| | Emma is a beautiful senior girl with lots of love to give. Don't let her age fool you — at 13 years old she's simply had time to refine her cuddling skills to perfection. Emma loves to be picked up and wrapped in your arms, and when you scratch her behind the ears, she purrs louder than all the kittens around her. |
| | Niles is an easy-going staff favorite who loves to play fetch and go for walks. He adores kids and already knows some basic commands. Despite all this, Niles continues to be passed over by potential adopters. In fact, he has spent nearly all of 2016 in the shelter. Niles is hoping the New Year will bring him the one thing he has always wanted — a loving family of his own. |

---
For Rocko, an energetic 4-year-old Pit Bull mix, patiently waiting for a new home was difficult. For several weeks he was overlooked by potential adopters due to his exuberant personality. But it was that same energy that would set him apart from the others when Rebecca and Steven visited AHS. Find out how he bounced his way into their hearts after 50 days in the adoption center.

---
Have you seen us on TV? We hope you've had a chance to watch Animal Humane Society's new commercial, airing on WCCO. We're so proud of how much we've accomplished together this past year, and are excited to share this glimpse of the work that goes on each and every day at AHS. Take a look at our 30 seconds of fame and read more about all that we've achieved together in our latest annual report.