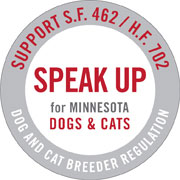 Dear ,
As a supporter of Animal Humane Society you have helped us to do great things for animals in Minnesota. Your support has enabled our humane agents to rescue dogs and cats from inhumane breeding facilities — better known as puppy mills. Now, we need your voice for the countless animals who are still suffering.

Animal Humane Society is part of a large coalition of Minnesota animal welfare organizations, veterinarians and community members that have been working to ensure the health and safety of dogs and cats in Minnesota. We're currently working to pass a state law that will require licensing and inspection of commercial dog and cat breeding operations. Currently, no such legislation exists. Regulation of the commercial dog and cat breeding industry in Minnesota is crucial to helping stop the abuse and neglect before it starts.

This past week, the Dog and Cat Breeder Regulation Bill (S.F. 462/H.F. 702) was introduced at the Minnesota State Legislature by Senator Barb Goodwin and Representative John Lesch. We hope that you can continue to be a voice for animals by extending your support to the bill.

Take Action Day for Minnesota dogs and cats

Next Tuesday, March 1 we are asking Minnesotans to call, write or email their State Senator and State Representative to voice their support of this legislation. We've made it easy for you to contact your legislators by providing key highlights of the bill and talking points to assist you in your communication — a link to find your legislators is also provided.

Please put next Tuesday, March 1 on your calendar to call, write or email your legislators about your support of ending inhumane breeding practices in Minnesota. Click here to receive a reminder email Tuesday morning.

When you call, write or email, don't forget to mention the bill numbers and chief authors:

Senate Bill Bill no.: S.F. 462 Author: Senator Barb Goodwin
House Bill Bill no.: H.F. 702 Author: Representative John Lesch

Please speak up. Together, we can be a voice for animals.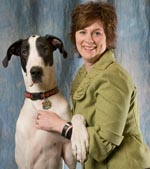 Sincerely,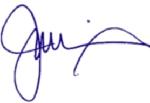 Janelle Dixon
President & CEO